Quincy QT-5 Two-Stage, Splash Lubricated Reciprocating Air Compressor, 5 HP, 230 Volt, 3 Phase, 80 Gallon Vertical, Pro Package,  QT-5-80V
Quincy QT-5 Two-Stage, Splash Lubricated Reciprocating Air Compressor, 5 HP, 230 Volt, 3 Phase, 80 Gallon Vertical, Pro Package,  QT-5-80V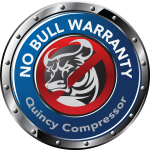 QT Pro Package 5-15 HP
ODP Motor
Motor Overload Protection
Ball Valve Tank Drain
Automatic Start/Stop 5 to 10 HP
Dual Control on 15 HP
NO BULL Warranty Available
QT Compressor Features
Splash Lubricated Two-Stage
Cast-iron Crankcase, Cylinders and Flywheel
Stainless-Steel Reed Valves with Valve Bumpers
Ductile Iron, Double Throw Crankshaft
Fin and Tube Intercooler
Sight Glass Oil Gauge on QT-5, QT-7.5 and QT-10
Bayonet Type Oil Gauge on QT-15 and QT-54
Automotive Style Inlet Filter/Silencer
One-Year Warranty Standard
Specifications
HP: 5
Voltage: 230
Phase: 3
Unit Style: Simplex
Tank Configuration: Vertical
Tank Size (Gallons): 80
ACFM @175 PSIG: 17.2
RPM: 942
Shipping Weight(Lbs): 680
L x W x H (In): 37 x 24 x 74
EWK Kit Part Number: 2022 1636 02
---
No Bull Extended Warranty:*
Quincy Compressor (seller) warrants the original complete QT PRO & MAX , QP PRO & MAX and Single Stage units for two (2) years from date of purchase, provided that the Purchaser (1) obtains the appropriate EWK kit (refer to EWK reference chart) at the time of compressor purchase, (2) registers the products online with Quincy Compressor at www.quincycompressor.com and (3) uses the kit contents in accordance with the instruction manual.
*See complete manufacturer's warranty statement for full terms and conditions
Powerful Performance
The Quincy QT reciprocating piston air compressor is more than just your typical splash-lubricated two-stage. The highly efficient, robust QT delivers more air (CFM) per brake horsepower while consuming less energy. We use cast-iron where it's needed for strength and durability, and aluminum where it's needed for optimum cooling and long life. A Quincy compressor may cost you a little more up front, but over time, the long lasting performance will save you money.
What Makes it a Quincy?
Compressor Head, Gaskets and Valves
• Aluminum head for cooler operating temperatures and longer life.
• Graphite cylinder and head gaskets for positive sealing and improved performance.
• Stainless-steel, corrosion resistant reed valves with controlled lift for maximum efficiency.
Interstage Intercooler
• Finned-copper-tubed intercooler dissipates excess heat from the first stage of compression to the second-stage, helping to eliminate carbon build up in the head and increase valve life.
Flywheel
• Large, balanced cast-iron flywheel for smoother operation, angledfor maximum cooling across the compressor for longer life.
Rings
• High performance, automotive-style rings allow less than 6 PPM oil carryover.
Crankshaft
• Balanced counter-weighted crankshaft for smooth, trouble-free operation.
Construction
• Cast-iron cylinder, flywheel, and crankcase for dependability.
• The extra-capacity oil reservoir assures low oil temperatures for lasting performance.
Superior Components
Quincy packs a one-two punch when comparing components to lower priced compressors. We feature IEC magnetic starters, premium motors, high quality pressure switches, metal automotive style filter/silencers, and a manual ball valve-style tank drain.